Week by week, London is proving that you're never far from quality gluten-free food in the capital. Menus in restaurants have widened their gluten-free ranges, supermarket isles have vastly adapted to the common diet and, now, discover some of London's best street food stalls for on-the-go gluten-free goodness, full of exciting, vibrant and healthy ingredients.
Whether you've got a sweet tooth today or fancy something more adventurous, London's best gluten-free food stalls have lots to offer – from gluten-free doughnuts and crepes to gluten-free Buddha Bowls.
Where to go? Here are some of the city's best stalls for gluten-free food and what you can expect to find within them:
Eat 'N' Mess – Broadway Market
Perfect for gluten-free cakes, bakes and brownies.
(Credit: Jenikya)
Gujarati Rasoi – Boradway Market (and other locations)
The ideal place to for for a speedy lunch, serving up delicious Indian gluten-free and veggie dishes.
(Credit: Scatti Di Gusto)
Cookies & Scream – Camden Market
Cookie heaven for those who are gluten-free (and vegan)!
(Credit: @cookiesandscreambakery)
Whole Food Heaven – Whitecross Street Market
Specialising in Buddha Bowls, this is the place to be for gluten-free and veggie street food on wheels.
(Credit: Wholefood Heaven)
Nojo – Camden Market
Elegant bouquets of gluten-free and vegan crepes.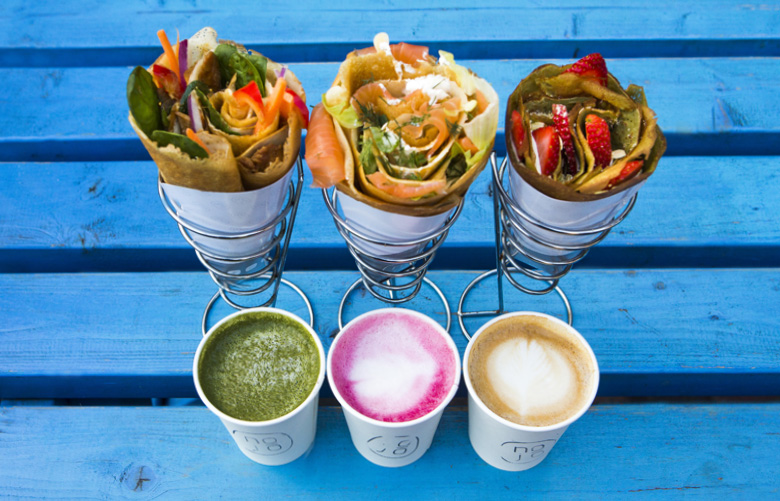 (Credit: Nojo)
Louisiana Chilli Shack 
Full of Tex-Mex flavours.
(Credit: Jaye Rockett)
Maize Blaze – Camden Market
Modern, Colombian street food.
(Credit: Maize Blaze)
Uncle G's Gourmet Chicken Company
It's hard to catch him but, when he's around, give him a visit for a dose of gluten-free buttermilk fried chicken.
(Credit: @uncle_gs_gourmet_fried_chicken)
Feed Me Primal 
Gluten-free flatbread paradise.
(Credit: kickstarter)
Horn OK Please – Borough Market
Truly authentic South Indian doasas.
(Credit: @horn_please)
Some other honourable mentions for London's best gluten-free (and often vegan) street food stalls include Don Rita, serving up brilliant Brazillian cuisine, Cupcake and Shhht with unique cupcakes, Meringue Girls offering unicorn meringue, Planet Pancake with indulgent gluten-free pancakes on wheels and Ruby's of London with neat and stylish cupcakes and doughnuts, but there are tons more to explore around London's markets.